If I told you that with just a few simple steps, you could slash your business energy bills by up to 5-10%, would that pique your interest?
In tough times such as these, keeping your energy costs low is more crucial than ever. I don't need to tell you that—you already know it!
In this post, I'm going to let you into one of the best-kept secrets of the business energy market. This secret gives business energy brokers a competitive edge: it allows them to line their pockets at your expense by adding commissions to your already out-of-control inflated suppliers' bills.
Many companies in the UK enlist business energy brokers, who promise to find the cheapest rates, but most end up paying more than they would have without assistance.
In theory, business energy resellers and brokers should inform you of the cheapest rates available in your area. But as with any industry, this isn't always what happens.
More often than not, here's what happens:
In order to win contracts, in the past, business energy brokers told you that they'd beat your current rates by asking for a copy of your company's last bill. They then use this information to determine an appropriate uplift charge (their commission)—usually 10% less than your existing bill.
However, there is now little competition among the major suppliers. As a result, you'll probably find only one or two at best that will even want your business—and then it's likely to be much more expensive; the broker will then add a 5-10% fee for their "services".
Energy and utility suppliers give brokers access to wholesale rates, which are significantly cheaper than what companies like yours will end up paying. These brokers make money by adding a hefty uplift commission to the rates before selling on to you.
This lack of transparency in energy rates and pricing is the most overlooked red flag in today's business energy market.
How to reduce business energy and utility costs
You might be wondering how you can combat the lack of transparency in the business energy market while reducing your energy and utility costs.
We've set up a new "business energy" service for our customers to help them access tariffs that, up until now, have been hidden away from them.
Since changing providers can be difficult, our first goal is to provide you with a better rate from your current supplier. And, if you're happy to look at alternative suppliers after that, we'll also share other deals and tariffs available in your area.
The difference between our service and your typical energy broker is that we'll show you the full range of energy tariffs available, a detailed breakdown of the exact unit rate from each energy supplier, and any mandatory commission fee that will be credited to your Numbergroup account.
We provide our energy service for free; we receive nothing for helping our customers save money.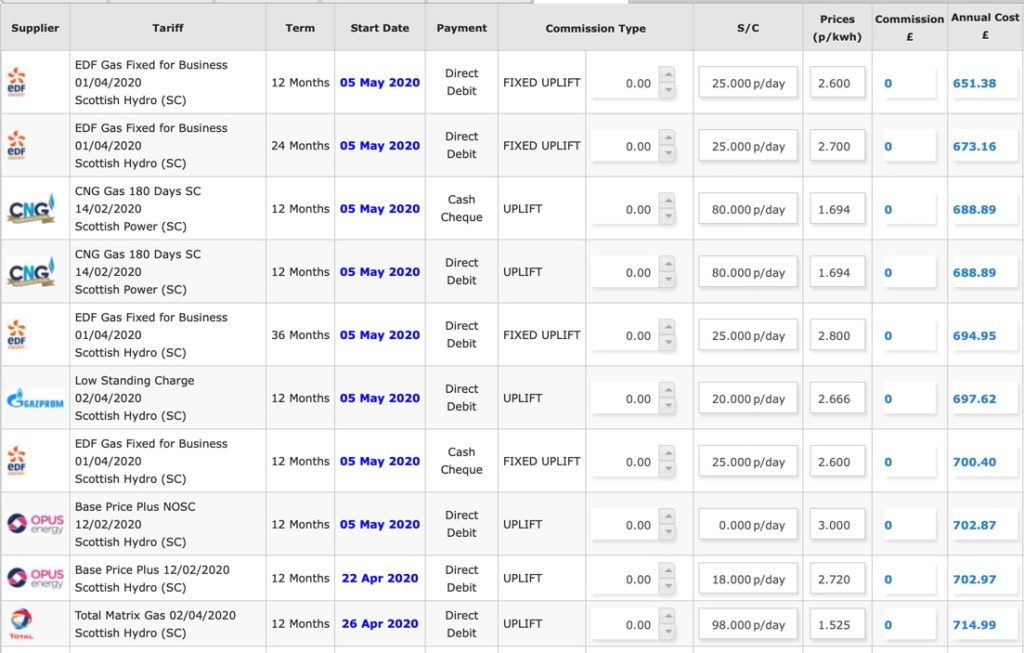 What this means is that you can effectively reduce your month-to-month business energy and utility costs, in some cases, without having to switch from your current supplier. This is especially important for startups and SMEs in the UK struggling to stay afloat as the COVID-19 and Inflation crisis deals a blow to businesses.
Features to look for in a business energy and utility provider
So, how do you find the right business energy provider?
Here are some key features you should look for if hiring a business energy & utility broker to source the best rates for your company.
#1: Access to business energy and utility rates
Perhaps one of the most important things you need is access to accurate business energy and utility rates in your area of operation.
Here's the deal: resellers and brokers don't always give you the best possible rates. However, good business energy solution providers inform you of the cheapest business energy rates and available tariffs in your area so you can choose the best tariff for your business.
Ideally, the tariffs they share with you are detailed and include up-to-date details about the following:
Business energy supplier
Term of the contract
Start date
Payment options
Any additional charges
Armed with this information, you're better positioned to evaluate the charges and decide which supplier best suits your business needs.
#2: Simple evaluation process
Here's another characteristic of good business energy solution providers:
Instead of asking for a copy of your last bill, good business energy providers ask you for the minimum information they need to find your company's cheapest business energy rates. Generally speaking, this means your company's location or area postcode.
For example, we'll ask you for your company's area of operation and run it through our platform to see which providers offer the cheapest business energy rates, along with information on how much you'll save. You can use this information to get a better rate from your current supplier or explore alternative suppliers in your area.
If you think about it, you get more options in exchange for much less information.
#3: Transparency
And last but not least, good business energy solution providers are transparent with their rates and charges.
One of the standout benefits of using our platform is that you can rest assured you'll get services from fully-licensed utility providers. It provides a business energy tariff table in the interest of transparency, including a detailed breakdown of the cheapest rates and charges.
In addition, the service doesn't lock you in with one energy supplier and one price for a long contract period. You can sign up for a 12-month contract if you prefer. The best part is that the business energy rates you sign up for will be re-evaluated once you renew your contract.
This way, you can rest assured that you're always getting the best deal for your business.
Grab the cheapest business energy rates
We aim to help you find a better rate than your current supplier or energy broker. We're sick and tired of our customers not being given access to the cheapest rates available, which is why we'll be the most transparent and honest source of rates and information in the business energy market.
Are you looking to reduce your business energy costs? Call us on 08003101010 or send us an enquiry via our contact form. We'll explain the service in more detail and show you how you can quickly start accessing the UK's best business energy tariffs.